Yesterday, with the
EAZA Silent Forest Group
and partners*, we hosted
CITES
delegates at an event on songbird conservation, moderated by Dalia Conde of
Species360
and our own Danny de Man. Welcoming the audience of official delegations, NGOs and researchers, EAZA Chair Endre Papp underlined the importance of protecting songbirds from unsustainable and illegal trade.
Before CITES CoP19 ends tomorrow, it is hoped to approve stronger regulation for two songbirds (white-rumped shama and straw-headed bulbul) and renew its commitment to protecting more species. Just over 1% of songbirds are CITES listed, and actions promised at previous CoP in 2018 failed to gain momentum.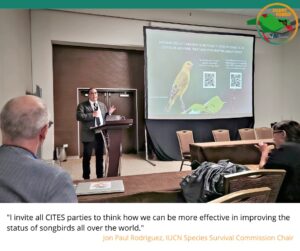 Our side event was an initiative to inject fresh energy into the topic. What is needed is a full picture of the scale of the trade, so that the conservation community – and governments that decide on CITES listings – can undertake the right protection efforts.
The session highlighted the need for more research and more data collection, which will allow for stronger evidence-based decisions in the future, especially in the CITES context.
EAZA looks forward to working on this important challenge together and thank all the partners for their support:
The Association of Zoos and Aquariums
,
BirdLife International
, Delegation of United States of America,
IUCN SSC Asian Songbird Trade Specialist Group
,
Kölner Zoo
,
Lincoln Park Zoo
,
Mandai Nature
,
Monitor Conservation Research Society
,
Provita ONG
,
Red Siskin Initiative / Iniciativa Cardenalito
,
Species360
,
TRAFFIC
,
Vogelpark Marlow
,
Wildlife Conservation Society
,
World Association of Zoos and Aquariums
,
Zoologisk Have
.
© Tomasz Rusek, EAZA