EAZA Ex-situ Programmes (EEP), coordinated conservation breeding.
Serious and scientifically run conservation breeding programs can be important as "safety-net" assurance populations as well as for research or awareness. Occationally such ex-situ programs also play a role in conservation translocations such as re-introductions. Regardless of the roles the ex-situ management should always be part of the consideration for a given species one-plan-approach recovery strategy.
Commercial and non-managed populations in captivity rarely play a conservation role and does not have any proven track-record in long-term viability of ex-situ songbird populations. Official programs have set targets and strategies as well as accountability.
We introduce current ex-situ programs here, to improve awareness within the zoo community about the Songbird TAG, breeding programs news and Best Practise Guidelines as well as provide an insight into this work.
In order to be able to make a difference we need to apply the skillset and philosophies  which are already available in EAZA member zoos, and we have the chance to make the world more aware of the conservation value of zoos. By celebrating more than 25 years of the Bali Myna EEP in 2017 we can clearly demonstrate that it is possible to save a songbird species through a zoo-based conservation breeding program. However zoo-based conservation is so much more than just breeding programs.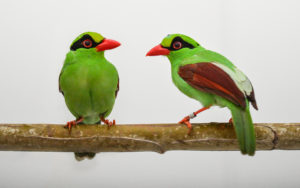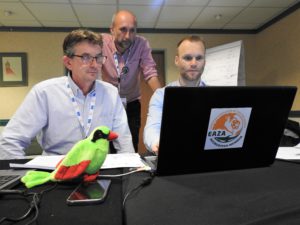 EEP = EAZA Ex-situ Programme (European Endangered Species Programme)
ESB = European Studbook
SSP = Species Survival Plan (AZA)
GSMP = Global Species Management Plan
Programs endorsed and supported by the Silent Forest Working Group:
Pittas (lumped) ESB
Sumatran Laughingthrush EEP
Rufous-fronted Laughingthrush Studbook
Blue-Crowned Laughingthrush GSMP
Emei Shan Liocichla ESB
Javen Green Magpie EEP
Black-winged Myna (complex) EEP
Bali Myna EEP
Grosbeak Starling EEP
Hill Myna (complex) EEP
Straw-headed Bulbul EEP
Orange-headed Thrush EEP
Chestnut-backed Thrush EEP