Author: Constanze Mager (Burgers' Zoo, Arnhem, The Netherlands)
The EAZA Annual Conference, THE EAZA meeting of the year, the place to meet and network with 600+ relevant staff of EAZA Zoos! Also, traditionally the time and location to close one EAZA conservation campaign and launch the next one. So, this conference is a crucial moment for a campaign planning team.
However, the EAZA Annual Conference is also quite a costly meeting, to be honest. The conference fee itself is rather high, surely compared to meetings of nationwide zoo educators (which are generally free of charge for one day meetings or very low-cost for conferences that last a couple of days). Then travel, accommodation, the inconvenience of missed working hours,… no wonder that most zoos' management send curators and/or zoological directors to those conferences only. Educators are a rare species there, even though there are closed and open education sessions.
Last March, when the educators of the preparation team met the EAZA staff during the EZE conference in Paris, Myfanwy Griffith, director of EAZA, made the remark that it is probably best if the curators of the core planning group give the campaign talk during the plenary session of the annual EAZA conference. On the one hand I was personally a bit relieved, as I did not have to ask my boss to attend yet another conference and also, I guess Myfanwy was quite right – as sad as is –  when she stated: 'tell the directors and curators that for the education stuff is taken care; they are not interested to deeply in it anyway, as long as they know there will be material.'. On the other hand, the conference is a great possibility to talk to people in person and get them enthusiast!  And curators who also have five EEP meetings to prepare and eight TAG meetings and who want to discuss a million different things with their colleagues… might not have the upcoming conservation campaign highest ranking on their agenda, maybe; so a little pushing can't do harm.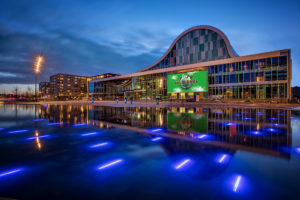 Not thinking about participating in this year's annual conference any more, the following news strikes me:  the zoos of the Dutch Zoo Federation NVD decided that it might be useful and interesting for non-curators to attend one set day of the Annual Conference in Wildlands, Emmen, the North of our own home country… reduced one-day fee for the first 30 interested Dutch zoo employees; no travel expenses, no accommodation necessary. I signed up really, really quickly! Unfortunately the set date is not the one of the campaign launch. Yet, that day might be a good chance to meet the curators/directors in the campaign preparation group. There are not to many meetings in person, so it would be great to get together during the lunch eg. And  a personal target: talk to at least five non-Dutch-zoo- employees (people I would not meet so easily normally) about the campaign goals and opportunities!