LCTW
The Lao Conservation Trust for Wildlife (LCTW) is the only Lao registered non-profit wildlife organisation working on the rescue, rehabilitation, release, sanctuary, conservation of wildlife in Laos – a treasure trove of unique biodiversity.
They have a strong footing in many conservation programmes on a national, regional and global scale and also deliver a strong message of education for Lao people – to engage them in preserving nature.
Partly due to its geographical location, Laos has become a major highway for the illegal wildlife trade with parts coming as far from Africa, through Asia and into high consumer countries, such as China and Vietnam.
The LCTW, with the enforcement authorities and other organisations in Laos, combats this trade and aims at improving enforcement and knowledge about this issue.
Find out more about their work:
Confiscation and Rescue
At the end of July, the LCTW Rescue Team was called upon by the Lao Government to help in the confiscation of a total of 105 Birds, of various species, being kept illegally by a pet store in Vientiane, the capital of Laos.
They found the birds in poor conditions in overcrowded cages, full of excrements and little access to food or water. Sadly, some had died before the Rescue Team arrived. The others were brought back to the LCTW Rescue Centre and Wildlife Hospital.
As the rescued birds are all native to Laos, the LCTW team can assess them for rehabilitation and release. They include Red-billed Blue Magpies (Urocissa erythroryncha), various Dove species, various Myna species, Red-breasted Parakeets (Psittacula alexandri) and Red-whiskered Bulbuls (Pycnonotus jocosus).
Thanks to this successful operation, in cooperation with the Department of Forestry Inspections in Vientiane, over 100 birds were saved from illegal wildlife trade!
Release
Even better news: after housing the birds for just a few days, LCTW staff assessed that the majority was healthy and strong enough to be released back to the wild! Two release missions were carried out  in secret and protected locations.
First, various species of Doves, Mynas and Red-whiskered bulbuls were released in different sites. Then, the Red-breasted parakeets were released, in another area.
The releases went smoothly with the help of the same government officials who were able to confiscate the animals – a process coming to full circle!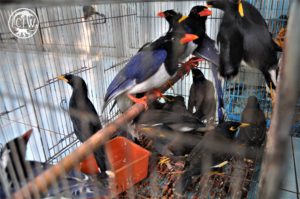 The Red-billed blue magpies were the only birds that could not be released as their flight feathers were damaged and need time to regrow. They are being safely housed at LCTW until the time comes when they can be released, keep an eye on the LCTW Facebook page for a follow up story about this species!
The LCTW is proud to report such a successful end to an incredible story!
However such missions of rescue, rehabilitation and release are an extreme financial burden for non-profit foundations. Donations are always welcome: if you'd like to help, please visit https://lctwildlife.org/donate