We are excited to report some of the amazing activities around the Silent Forest Campaign taking place at the Zoological and Botanical Garden Wilhelma in Stuttgart (Germany).
They have set up a beautiful exhibition in one of their historic greenhouses. It was launched for Conservation Day on the 21st of May 2018 and raises awareness of the Asian Songbird crisis as well as the plight of the European songbirds. The activities accompanying the exhibition throughout the year include a drawing contest, early morning birding tours for families as well as workshops, where nesting boxes, seed dispensers or bird baths can be assembled and taken home.
Many children participated in the drawing contest on "How to help the Songbirds". They won tickets to the Zoo as well as bird books and nesting boxes.
A fundraising lottery was organised and yielded 3000€ in just 4 days!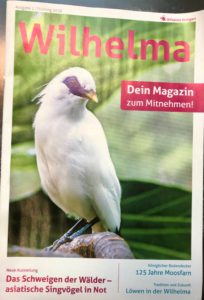 Finally, German speakers can read the article describing the campaign in the Wilhelma magazine by clicking on its cover.
Inspiring!!! Thank you so much for your support and involvement in the Silent Forest Campaign!
Photo credits: Wilhelma Zoo.