Remember last month's post Racing for Mynas?
The race is now over and was successfully finished by our two athletic birds enthusiasts!
Here are some updates from Joost Lammers (Birdpark Avifauna, The Netherlands).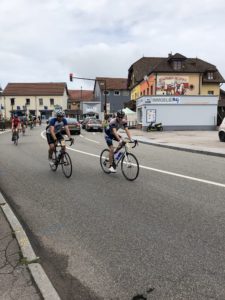 "June 9th, 7:30 am, we began our Trois Ballons adventure with great spirits and knowing we already collected more than €600,- for the Nias Hill Myna project. More than 9 hours later and 200 kilometres further we were both pretty exhausted and still had to do the final climb to Planche des Belles Filles, a well-known finish place from the Tour de France. Especially the last stretch to the finish with percentages up to 20% was extremely painful but we both succeeded and finished in a very acceptable time of 10 hours and a handful of minutes, both earning the silver medal. After finishing the race the contributions still came in and in total we raised €1182,77 for the Nias Hill Myna."
Congratulations for the incredible achievement and many thanks for the contributions!