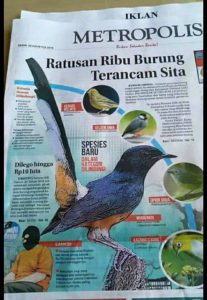 The Government of Indonesia has taken a huge step towards saving their native songbirds!
The revised list of nationally protected species, including most Songbirds, which are threatened by the trade, lays the framework for further activities and enforcement to protect Songbird populations. It however also provides the opportunity to transform the culture of enjoying songbirds in to a sustainable activity, which is also available for future generations to come.
Unfortunately there is significant opposition, as one could imagine, especially from commercial entities making profit from the Songbird trade. But their complaints are shortsighted as the current trade is literally depleting its own foundation – the Songbirds are disappearing and will not be here for future generations to see or hear if things don't change.
The Silent Forest Campaign applauds the Indonesian Government for taking these steps now, before it is really too late.
We encourage all involved to stay strong and continue the process on the path started. For Songbirds and for people who enjoy Songbirds.
With the highest respect and appreciation on behalf of the conservation campaign, Silent Forest.