The much-anticipated formal description of two new songbird species which are endemic to South Borneo is now out. Here a species of white-eye and jungle-Flycatcher is described as new to science. Both species were first discovered during an expedition in the karst Meratus Mountain range in 2016 when searching for the enigmatic Black-browed Babbler which was only rediscovered nearby in 2020.
Particularly the new Meratus White-eye (Zosterops meratusensis sp. nov.) is visually distinctive with its overall more olive-greenish appearance whereas the new Meratus Jungle-flycatcher (Cyornis kadayangensis sp. nov.) might be less distinctive to the untrained eye but it has a unique song. Both species were also documented to be genetically distinctive species.
First author Mohammad Irham is from the Indonesian Institute of Sciences (LIPI) and is also associated with National University of Singapore (NUS) which have extensive experience with DNA sequencing used in the description.
Images are kindly shared by James Eaton who led the original expedition discovering the species.
Most authors are closely associated with the Asian Songbird Trade Specialist Group (ASTSG) and have good insights to the trade issues affecting many songbirds in Indonesia, and as a part of their description the authors recommend listing the "new" species as Vulnerable in the IUCN Red List because of their small range and an increasingly high frequency of bird trapping in this area.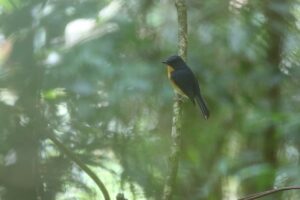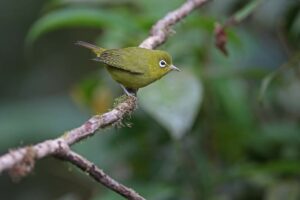 Here is the link to the publication
Mohammad Irham, Tri Haryoko, Subir B. Shakya, Simon L. Mitchell, Ryan C. Burner, Carlos Bocos, James A. Eaton, Frank E. Rheindt, Suparno Suparno, Frederick H. Sheldon & Dewi M. Prawiradilaga (2022) Description of two new bird species from the Meratus Mountains of southeast Borneo, Indonesia. Journal of Ornithology. https://doi.org/10.1007/s10336-021-01937-2