Authors: Julia Migné (Chester Zoo, UK) and Lucia Schröder (Cologne Zoo, Germany)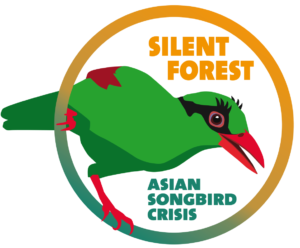 As you might know, consumption of wild-caught South-east Asian Songbirds for trade, as pets, singing competitions, status symbols, religious ceremonies, traditional medicine and food are pushing many species to the brink of extinction. Zoos across Europe have joined forces to help tackle this crisis through the Silent Forest Campaign.
This year, the campaign participants are redoubling the efforts and celebrating International Songbird Day on 13 May with a wide range of activities in support of the campaign!
After having heard the finest of European singing at the Eurovision contest the day before, we will add to the singing frenzy for another day and will raise awareness about the Songbird crisis.
Cologne Zoo started the festivity on 6 May.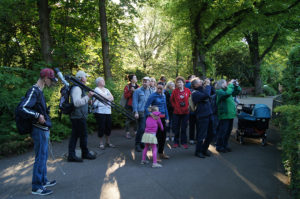 Starting before opening time, the participants enjoyed the special early morning atmosphere during an early bird guided tour to observe native songbirds with field guides, Members of bird life Germany (NABU).
The visitors could then take part in creative activities, such as face-painting, sheet coloring and mask hand-crafting, or behind the scenes guided tours to visit the breeding aviaries. Information about the campaign, "crazy birds" and native birds were available.
Art was predominant during the day. The artist Rolf Jahn painted his "crazy birds" on a wall as a permanent artwork. Tattoo artists from four studios immortalized bird passion in a very original way and generously donated their fees to the Silent Forest campaign. Uwe Reetz – singer, songwriter and animator – performed, in a German version, the beautiful songbird song from Ashley Fayth, in cooperation with Chester Zoo.
6300 visitors attended the event! What a success!
Next week-end, Songbird Day will be celebrated in several institutions.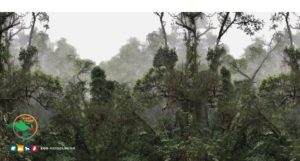 On Sunday 13 from 10 am to 5 pm, Heidelberg Zoo will be offering information, activities, games and fun around Bird conservation and the Silent Forest campaign. Bird stickers will be distributed against a donation. Visitors will be able to stick them onto a large Rainforest wall so that hopefully, at the end of the campaign, the symbolic forest will be full of birds again!
From Sunday 13 to Friday 18 May, Chester Zoo is organizing activities to learn more about illegal bird markets and the different conservation actions in the zoo and in the Asian field (see detailed schedule below).
Many more zoos participate to the Silent Forest Campaign, don't hesitate to visit your favorite zoo's website or Facebook page to see if activities are organised next week-end.