Bird trade study in Sulawesi shows extent of Indonesia's domestic bird markets and highlights the need for strengthened law enforcement 
Text by Boyd Leupen, Monitor Conservation Research Society
A recent study published by members of the Monitor Songbird Lab has found large numbers of illegally traded birds during market surveys on the island of Sulawesi, Indonesia. The Monitor Songbird Lab is a collaborative effort between conservation researchers, including members of Monitor Conservation Research Society and the EAZA Silent Forest Group.
The present study, which consisted of a survey of Makassar's main bird markets in June 2019, represents yet another step in the mapping out of Indonesia's extensive and complex bird trade. Although large-scale surveys have been conducted in Indonesia in the past, most importantly on Java, many the country's lesser-frequented islands remain understudied. The data presented in the study is intended to support enforcement efforts in Indonesia, to aid in strengthening policies in place to prevent declines in wild bird populations and to catalyze further conservation actions.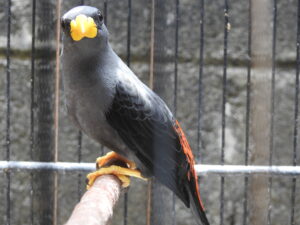 In a single day a total of 6,352 birds belonging to 63 different species were recorded in the bird markets of Makassar, nearly all of which were native to Indonesia. More than half of these birds do not naturally occur on Sulawesi, exemplifying the country's large intra-national bird trade. The introduction of non-native species, particularly on islands, can have devastating consequences for local bird populations when escaped cage birds spread disease or become invasive competitors.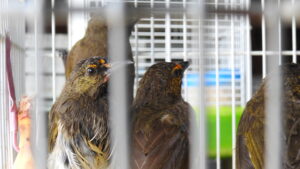 The recorded birds included a total of 15 protected species, accounting for 1,004 individuals, for which commercial trade is prohibited in Indonesia. Numerous other species observed had been harvested outside of national harvest and quota laws, making the sale of these birds illegal as well. The fact that these illegally-sourced birds were openly available in Makassar's markets clearly highlights the need for strengthened enforcement in Indonesia. The authors of the study recommend regular inspections of the markets by local authorities and enforcement of existing laws as and when illegal trade is encountered.
Find the full study here: (https://mcrsociety.org/2021/11/25/incidence-of-protected-and-illegally-sourced-birds-at-bird-markets-in-makassar-sulawesi/)