Author: Heike Meisch (Zoopark Erfurt, Germany)
During Zoopark Erfurt's festival on 5 May, kids could get a glittering temporary tattoo at the Silent Forest campaign tent. They could choose among lots of different birds – and other animals to add the mammal or butterfly lovers as well.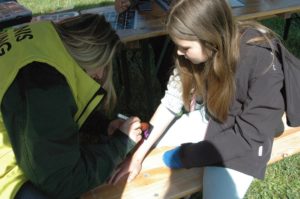 Kids were queuing to get one of these very fashionable tattoos, made of glue and glittering powders applied on the skin.
A big thank you to the tattoo parlor MED. NEEDLE Piercingpraxis who donated the material needed.
The kids could get the tattoo for free or could give donations to support the Silent Forest campaign. The zoo club had constructed bird "piggy banks" and kids and parents alike were busily feeding those birds.
The shiny bird tattoos were so great, there was always a long waiting queue!  Unfortunately, as it takes time to apply the glue and wait until it is semi-dry, not all kids could get their tattoo on time. So, during the next festival day we will need 3-4 full time "Tattoo makers" to be able to satisfy all the kids.
Interested in doing the same? Great: just make sure that your tent is in a place without wind! Otherwise the whole space turns into a glittering, brilliant Silent Forest world!
Other activities were also organised to promote the campaign. A beautiful and educative day in Erfurt!