Introduction 
Babi and Lasia, are two tiny and uninhabited islands neighbouring Simeulue in the far north-western corner of Indonesia. These islands both maintain close to 100% rainforest cover, with 62% of Lasia and 50% of Babi Island being protected areas. Still, illigal songbird trapping and seaturtle egg collection are considered serious threats to the biodiversity if these unique islands. Ecosystem Impact Foundation have initiated a community ranger programme in partnership with the Silent Forest Group.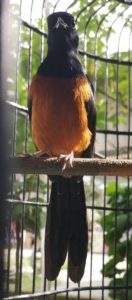 Following a multi-stakeholder approach, this project has four interconnected components which will lead to the reduction in poaching of birds in the area:
(i) A research phase which will lead to a better understanding of Simeulue, Babi and Lasia's bird populations and habitats as well as the current poaching threats,
(ii) Piloting an innovative, efficient and on-going data collection and monitoring approach to Babi and Lasia Islands.
(iii) An environmental education and conservation awareness raising programme aimed at influencing local attitudes within in Simeulue communities, regional and local politics, and procedures in relation to keeping and catching wild birds.
(iv) Develop engagement with local owners and trades of birds in cooperation with regional and local authorities.
This project is supported by technical advise and financial support from Silent Forest since 2021. This project is subject of ongoing fundraising and to ensure future progress further funding partners are invited to participate.  
PROJECT UPDATE:
July 2022: Babi and Lasia Community Ranger Project – An Update on Progress and Future Plans
October 2021: Babi and Lasia – Data Summary
June 2020: Project Proposal – Bird Monitoring on Babi and Lasia Islands