The Sumatra Songbird Sanctuary is a specialized conservation breeding facility to be located within the Orangutan Heaven. Its operations are planned to start in 2022.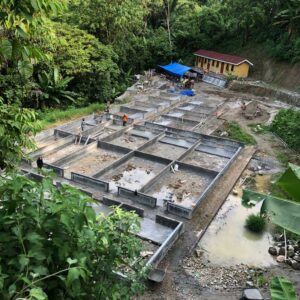 Recent efforts have been made to provide a safeguard against the extinction of some of the most threatened species through the establishment of ex-situ breeding populations. This project seeks to establish such a programme in Sumatra, provisionally entitled the Sumatran Songbird Conservation Programme (SSCP). It will be entirely consistent with the policy and recommendations of the Threatened Asian Songbird Alliance (TASA), within EAZA, and the conservation strategy and recommendations of the first Asian Songbird Trade Crisis Summit held in Singapore in 2015 (Lee et al. 2016), namely "To establish well managed ex-situ populations on a global/international scope and develop rigorous reintroduction programmes whenever possible".
The new facility will be located in North Sumatra Province. The site itself will be on land currently owned and being developed by Yayasan Ekosistem Lestari (YEL) and its Swiss-based partner, the PanEco Foundation, as the "Orangutan Haven", a project of YEL and PanEco's long-established Sumatran Orangutan Conservation Programme. This project will be greatly assisted by the bird department of the Durrell Wildlife Conservation Trust. They will take a leading role in designing all facilities and husbandry protocols, and in training both keeping staff and veterinary personnel.
Project objectives:
Establish a new facility consisting in the first instance of 24 carefully designed aviaries, and associated supporting infrastructure.
Develop and maintain a captive population of Sumatran Laughingthrush (Garrulax bicolor) and Nias Hill Myna (Gracula robusta)
House and breed other Sumatran threatened species as recommended by TASA in the second instance
Establish education programs to strengthen the engagement of local communities
Collaborate with all related parties to establish research programs for local and international researchers
Develop strategies for release and post-release monitoring and management.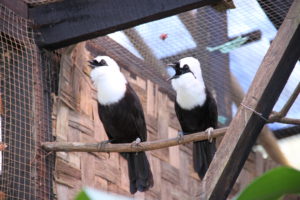 PROJECT UPDATE:
April 2022: Orangutan Haven update 1st quarter 2022
March 2021: Facebook post on construction progress 
May 2020: Video from the construction site with Ian Singleton PanEco Sumatran Songbirds
May 2020: PanEco YEL Aviaries Sumatra 9 May 2020
May 2020: Read about how the Sumatra Songbird Sanctury is affected by the Corona-pandemic