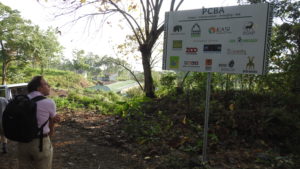 The Prigen Conservation Breeding Ark came into existance in 2017 in responce to over 60 international experts participating coming together for the Songbird Crisis Summits held in Singapore in 2015 and again in 2017 which identified and urgent need to initiate ex situ conservation meassures for some of the ost threatened songbird species in the Greater Sunda region. The KASI Foundation of Taman Safari Indonesia together with many partners started a programm to maintain and breed the most threatened Indonesian songbirds in order to gain the time needed for other conservation activities to be successful.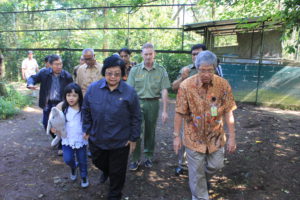 The project goal is to support the Indonesia songbird population in the wild against extinction by ensuring their captive-breeding following husbandry guidelines, building awareness in local government and communities about the existing and growing threats and the importance of conservation action, thereby gaining support from other local stakeholders to contribute towards conservation programs for songbirds.
Click here to view a presentation about the Prigen Conservation Breeding Center
Progress
The initial aim was to build six enclosures for songbirds following the international calls to initiate more in-region breeding programmes for the most threatened songbirds. The first unit was erected in August 2017. Here several endangered songbird species, including assurance populations of Javan Green Magpie Cissa thalassina, Greater Green Leafbird Chloropsis sonnerati, and Javan Pied Starling Gracupica jalla were kept.
Soon after that, following the project plan, Unit 2 and 3 were built in 2018. Then, at the end of 2019, the construction of Unit 4 was started and designed carefully to ensure the successful conservation breeding goals.
In the first quarter of 2020, the constructions of Unit 5 and 6 were completed, leaving 183 songbird aviaries in the compound. New aviaries threatened hill myna taxa were started in 2020, based on funding from the Zoo Animal of the Year Campaign for the Hill Myna during 2020.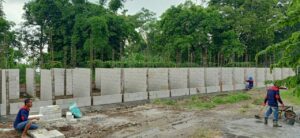 The animals of the PCBA are recorded in Species360/ZIMS ensuring transparency with our international partners.
The infrastructure and staff are funded primarily by Taman Safari and through the KASI foundation which is the conservation arm of the Taman Safari Group. Construction has been enabled primarily through international conservation partners and in particular European zoos, EAZA Silent Forest as well as the Taman Safari Indonesia.
PROJECT UPDATES:
December 2022: News Update Prigenark 4/2022
November 2022: Prigen trial releases of Javan Pied Starling
September 2022: News Update Prigenark 3/2022
July 2022: News Update Prigenark – 2/2022
April 2022: News Update Prigen Ark – 1/2022
December 2021: News Update Prigenark – 4/2021
October 2021: News Update Prigenark – 3/2021
June 2021: News Update Prigenark – 2/2021
April 2021: News Update Prigenark – 1/2021
January 2021: Wangi-Wangi Island Trip Report – December 2020
December 2020: News Update Prigenark – 4/2020
September 2020: Video KASI Foundation
September 2020: News update Prigenark – 3/2020
March 2020: News Update Prigenark – 2/2020
March 2020: Spring News from the Prigen Conservation Breeding Ark
December 2019: Project update Prigen Conservation Breeding Ark for 2019