| | |
| --- | --- |
| Applicant | KASI Foundation |
| Project coordinators | John Sumampau, Stephan Bulk |
| Location | East Java, Indonesia |
| Pledged amount | €30.000 |
| Flagship species | Straw-headed bulbul (Pycnonotus zeylandicus) – EN |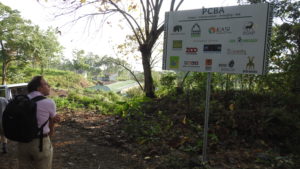 Over 60 experts participating the first Songbird Crisis Summit held in Singapore in 2015 and the second one in 2017 identified the most endangered species in the Greater Sunda region and recommended to strengthen their captive breeding. KASI Foundation of Taman Safari Indonesia responses with a program to start on maintaining and breeding these endangered Indonesian songbirds.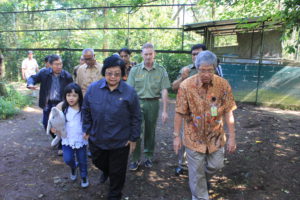 The project goal is to support the Indonesia songbird population in the wild against extinction by ensuring their captive-breeding following husbandry guidelines, building awareness in local government and communities about the existing and growing threats and about the importance of conservation action, and by gaining support from other stakeholders to contribute to the conservation program.
Click here to view a presentation about the Prigen Conservation Breeding Center
Project objectives:
Create a good standard aviary complex that will support the successful breeding program of the listed species of songbirds in healthy, genetically sound populations to ensure the release of captive-bred birds in their natural habitat.
Establish husbandry guidelines in collaboration with government, associations and universities.
Develop and maintain a captive population of songbirds with other parties concerning songbird species conservation to ensure viable songbird population in the wild against extinction.
Collaborate with all related parties to develop public awareness programs in having a more effective, comprehensive, and significant conservation result.
Fulfil the local demands for these threatened songbirds through captive populations and transfer some of the above listed species of songbirds to other institutions and zoos involved and supporting this global program, technically as well as financially.
PROJECT UPDATES:
December 2021: News Update Prigenark 31.12.2021
October 2021: News Update Prigenark 02.20.2021
June 2021: News Update Prigenark 30.06.2021
April 2021: News Update Prigenark 03.04.2021
January 2021: Wangi-Wangi Island Trip Report – December 2020
December 2020: News_Update_Prigenark_02.01.2021
September 2020: Video KASI Foundation
September 2020: News update Prigenark 01.10.2020
March 2020: News_Update_Prigenark_27.03.2020
March 2020: News update Prigen Conservation Breeding Ark March 2020
December 2019: 2019_Project_update _Prigen_Conservation_Breeding_Ark_December_2019